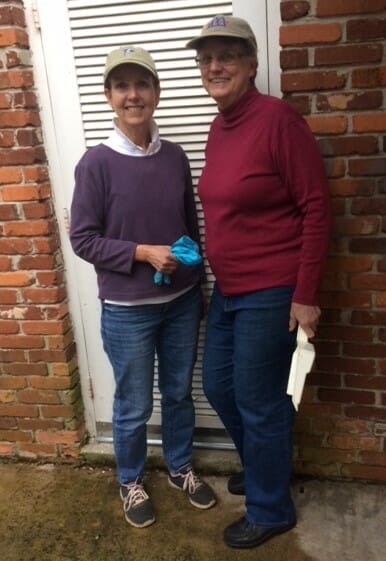 Jonda Beattie and I are organizing experts. We approach organizing differently than some of our organizing colleagues. We are not the ones to call if you want your home to look like a magazine photo shoot. In all honesty, no ones' home looks like a magazine photo shoot for more than an hour or so because people live in their homes. Naturally, pillows will fall on the floor, a cushion will be de-fluffed, and things will be left on kitchen counters. Life happens.
We are the organizers to call when you are overwhelmed by life events, too much clutter, and if you want better systems to help you combat hoarding-like behaviors.
What sets us apart?
I'm so glad you asked! I could say it's our combined years of experience and education. We are both teachers, and both of us have lots of education in the organizing field. But, what really sets us apart is that we ask questions about how you would like your home to look. Then we listen to your answers. It's important to note that we also listen for what you do not say. Sometimes the words that do not get said give us great insight. Jonda and I want to know why you want to get organized and conquer the clutter.
What is your motivation?
There is no wrong answer. It helps us to help our clients when we know what is driving them to do this work because it is not easy, nor is it a quick fix. As organizing experts, we know that to get a good lasting result we want to work slowly and methodically with our clients. This way our clients learn how best to organize for themselves. Organizing is a very personal journey. For the strategies to stick we need to adjust them to our clients' particular style.
How do we work?
Jonda and I start with a phone consultation. We ask our potential client to describe the home. How many bedrooms, bathrooms, and living spaces? Other questions are: can the rooms be used the way they were intended? Can you cook in the kitchen? Are the bathrooms functional? Do you have piles laying around? Are there tripping hazards? The first priority is always to make the home safe.
The answers to these questions give us a good indication of what we might see when we get to the person's home.
People always ask where should we start organizing? Our reply is: Where does it hurt the most? In other words: where is the disorganization causing you the most discomfort. Let's start there and make your daily life better right from the beginning of our work together.
Once we determine the place to start, we ask more questions. To be clear, our goal is to help our clients clear clutter so that they have the things they need, use, and love in their home. The remainder we guide our clients to release or repurpose
We believe that it's very important to have success in organizing and the best way to do that is to start in one small area for a short amount of time. Our clients are  amazed by how much they can accomplish in 10 – 15 minutes.
Hands-on organizing
We are hands-on organizers. Jonda has spent hours and hours working with a client to sort through boxes in a storage facility. I have been known to climb over railings to get to the second floor of a home (the stairs weren't passable) to install a shelving unit in an upstairs room. The two of us helped sift through piles of paper at one clients' home to locate a passport.
We never know what we are going to come across or where in the home we will be working. Generally, we'll wear long pants, long-sleeved shirts, and have a baseball cap handy just in case we are in a basement or attic where there could be cobwebs lurking about.
How long does it take?
An organizing session can last anywhere from a couple of hours to a full day. Keep in mind that decision making can be exhausting. As organizing experts, we encourage our clients to take short breaks, drink plenty of water, and have snacks handy to keep energy up.
The organizing project can take a few days, weeks, or months depending on the nature of the project.
There is no magic wand
Even though we are organizing experts, we do not have a magic wand. There is no way we can go to a client's home and magically make the clutter disappear. When we go to a client's home, we do not organize for them. We organize with them. There is a big difference here. It would be very easy for us to go in, move things around, decide where things should go according to the way we like to find them, but we believe that would be doing our clients a disservice. Their home would not necessarily be organized in the way that works best for them.
We start in the area that will make the biggest difference to the client and offer simple solutions to make the area more organized. Please notice I did not say picture perfect. We are shooting for better organized than before. One of the most important things that we do is ask our clients. Their input is crucial to successfully organizing their home.
In summary
There's nothing fancy or glamorous about working with an organizing expert. We have our clients' best interest at heart and endeavor to create organizing solutions that will work for our clients and be simple for them to maintain. Organizing can be time consuming and messy work but it is very rewarding when our clients are happy and the organizing in their home works well for them. To read more blogs like this click here.
Diane N. Quintana is a Certified Professional Organizer® ,a Certified Professional Organizer in Chronic Disorganization®, Master Trainer and owner of DNQ Solutions, LLC and co-owner of Release●Repurpose●Reorganize, LLC based in Atlanta, Georgia. She specializes in residential and home-office organizing and in working with people affected by ADD, Hoarding, and chronic disorganization. Diane has recently co-authored a book with Jonda Beattie titled: Filled Up and Overflowing.