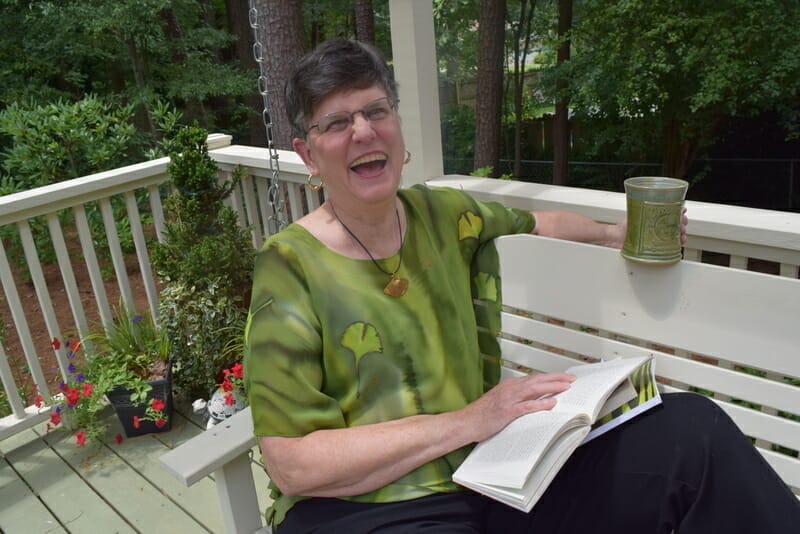 It's not unusual for a client on an intake session to say something like, "I have been trying to do this by myself for a long time, but I am ADHD." Or we might hear, "My daughter-in-law says I am a hoarder. I am afraid she might be right." Then there is the "I am a stay-at-home mom without an outside job, and I still can't get my work done."  Clients label themselves in this way to give us a better understanding of who they are. But it doesn't help us as professional organizers at all. Labeling yourself or assigning a label to another person is limiting. It is not intended to be limiting but it is.
I am:
Old
Overweight
Stupid
Depressed
STOP!
Let me introduce myself. I am Jonda Beattie. I am 77. I am overweight. I am a busy entrepreneur. I am a professional organizer, presenter, author. I am a wife, mother, grandmother. I am a reader, a traveler, a cook.
I am a composite of so many things. One characteristic does not define me. You can't just stick a label on me and think you know me.  Don't assume I can't do something because of my age or weight. I am realistic about myself, know what modifications I need to make to get a job done and I enjoy life.
If we focus in on a label either for ourselves or someone else, we miss so much. Various aspects of who we are surface in different settings.
Labeling yourself can be self-fulfilling
A person may have a diagnosis of depression, ADHD, hoarding, or any other medical diagnosis or behavior which makes it difficult for them to achieve certain goals. It is smart to acknowledge this as it will affect progress but do not let it define that person. The person is not their diagnosis.
If a person believes, "I am a hoarder," then they accept and perpetuate the myth that hoarding-like behaviors are the norm for them. It can become a self-fulfilling prophecy.
Once a person is diagnosed with ADHD and believes that their condition will keep them from achieving a goal – they are right.
Henry Ford is quoted as saying, "If you believe you can do something or you can't do something, you are right."
If I believe that I am "old" then I could let that belief hold me back from so many exciting adventures.
Person First
When Diane Quintana and I work with our clients we look at the whole person first. We toss aside any negative label they have assigned to themselves. What does that person want to achieve? What do they believe? What are their dreams and visions?
We look for the persons' strengths and then develop systems and solutions which play to them. Then, we celebrate each and every accomplishment no matter how big or small. If there is a disability, we look for ways that the person can achieve their goal by getting the right help or support. Our goal is to help each person achieve success.
Avoid Negative Labels
We see repeatedly how easy it is for people to let negative thoughts take over or for them to internalize someone's thoughtless comments. People replay these negative labels in their heads, and it keeps them from becoming their best self.
Think about it. We rarely focus on the positive things someone has said to us. Instead, our tendency is to focus on the little things that are wrong. Maybe these are things we want to make right but don't know how.
Negative Labels Affect Your Self-Esteem
Labeling yourself with a thoughtless negative remark affects your self-esteem and plays with your emotions. You may decide you ARE lazy, a slob, a hoarder, or any other negative label someone has assigned to you. Words can hurt us more than a cut because we replay these negative remarks so often that they become a truth.
The best reason to avoid labeling yourself or others is that labels are limiting. You are more than that one label. Refrain from labeling yourself with the one thing that may be difficult for you. Don't let yourself be defined by one aspect of yourself. Instead, look at yourself and embrace your whole being.
Ask yourself, "Who am I? What are my goals? Am I letting negative thoughts and labels hold me back? Do I just need some guidance and accountability to move forward with my projects?"
If you feel you want some help achieving an organizational goal or project, join Diane and me in our Clear Space For You clutter support group.
Jonda S. Beattie, Professional Organizer owner of Time Space Organization, and co-owner of Release, Repurpose, Reorganize. She is based in the Metro-Atlanta area. As presenter, author of four books as well as a retired special education teacher she uses her listening skills, problem solving skills, knowledge of different learning techniques, ADHD specialty, and paper management skills to help clients.