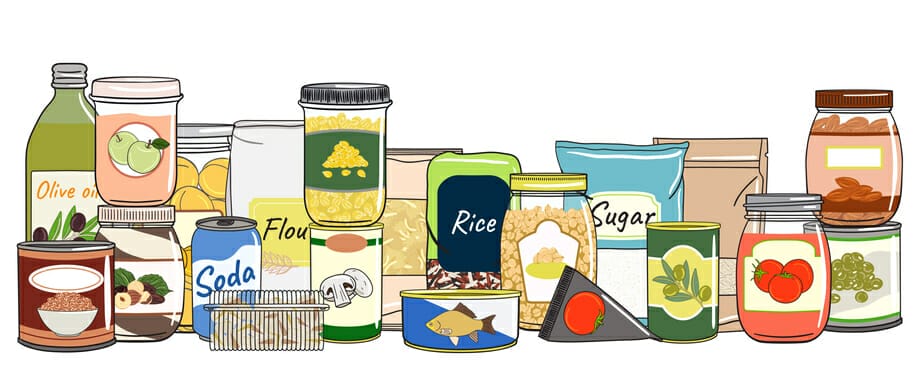 When I work in clients' kitchens, I often hear comments about their desire for a larger pantry. My response is usually, "Maybe you don't need a larger pantry, but we just need to organize this one."
Generally speaking when people come home from grocery shopping, they just open the pantry door and put their purchases anywhere they will fit. The result is a mishmash of items with cans and boxes pushed to the back of the shelves and no one has any idea what is lurking in the back of the pantry.
When they are meal planning and making their shopping list for the week, they end up buying duplicates of what they already have because they don't really know what is in the pantry.  They think they have a can of green beans back there somewhere and when they start to make that casserole, they have to pull a ton of cans out only to find they don't have it.
Steps to organize the pantry:
Remove everything from the pantry and wipe down the shelves. If you have a large walk in pantry, do one section at a time. Check expiration dates on cans and boxes as you go. If something is near its expiration date and you have not yet opened it, consider putting it in a donation box. Dispose of items way past expiration. While they may not be spoiled, they will not be as tasty. Definitely toss any rusty or bulging cans.
Group like items. Organize your pantry like you would find those items in the store. Put all soups together, all vegetables, all fruits, all canned meats, rice, pasta, etc. Other groupings that work are putting snack items or breakfast foods in one location.
Containerize some items. You could use baskets or plastic tubs. Just make sure they fit well on the shelves and are easy to pull out to search for what you want. For example, put all cereals in one container or all snack items or all nuts in containers. The Container Store carries a wide variety of containers from which to choose.
Label the containers and the shelves. This is particularly important if multiple people are using the pantry.
Replace items back into the pantry. Keep heavier items toward the bottom or middle and put lighter items like rice and pasta higher up. Put items near expiration to the front of each shelf.
Maintenance:
Once you have completed this process, I'll bet you have a lot more room in the pantry. You will be able to find the items you need when cooking. It is important to have a maintenance plan to keep the pantry usable. I plan my menus weekly and make a grocery list of what I need for those recipes. I only buy what I need for the week. Resist the impulse to buy a case of diced tomatoes because they are on sale. While you may save a few cents on each can, you now have to find a place in the pantry to store the excess.
Before shopping each week, take inventory of what you already have. With your organized and simplified pantry, this should not be hard. Schedule a time once a year to completely clean out and reevaluate your pantry. I usually do this in October before I begin holiday baking and cooking.
With your organized pantry you will no longer cringe when you open the pantry door and you will find cooking a much easier task. Reach out to me for more tips on organizing your pantry.
Jonda S. Beattie, Professional Organizer and owner of Time Space Organization and co-owner of Release●Repurpose●Reorganize, is based in the Metro-Atlanta area. As presenter, author of three books as well as a retired special education teacher she uses her listening skills, problem solving skills, knowledge of different learning techniques, ADHD specialty, and paper management skills to help clients tackle the toughest organizational issues. Jonda does hands on organizing, virtual organizing, and moderates a Zone Plan Teleclass for those who prefer to work on their own with organizational coaching.