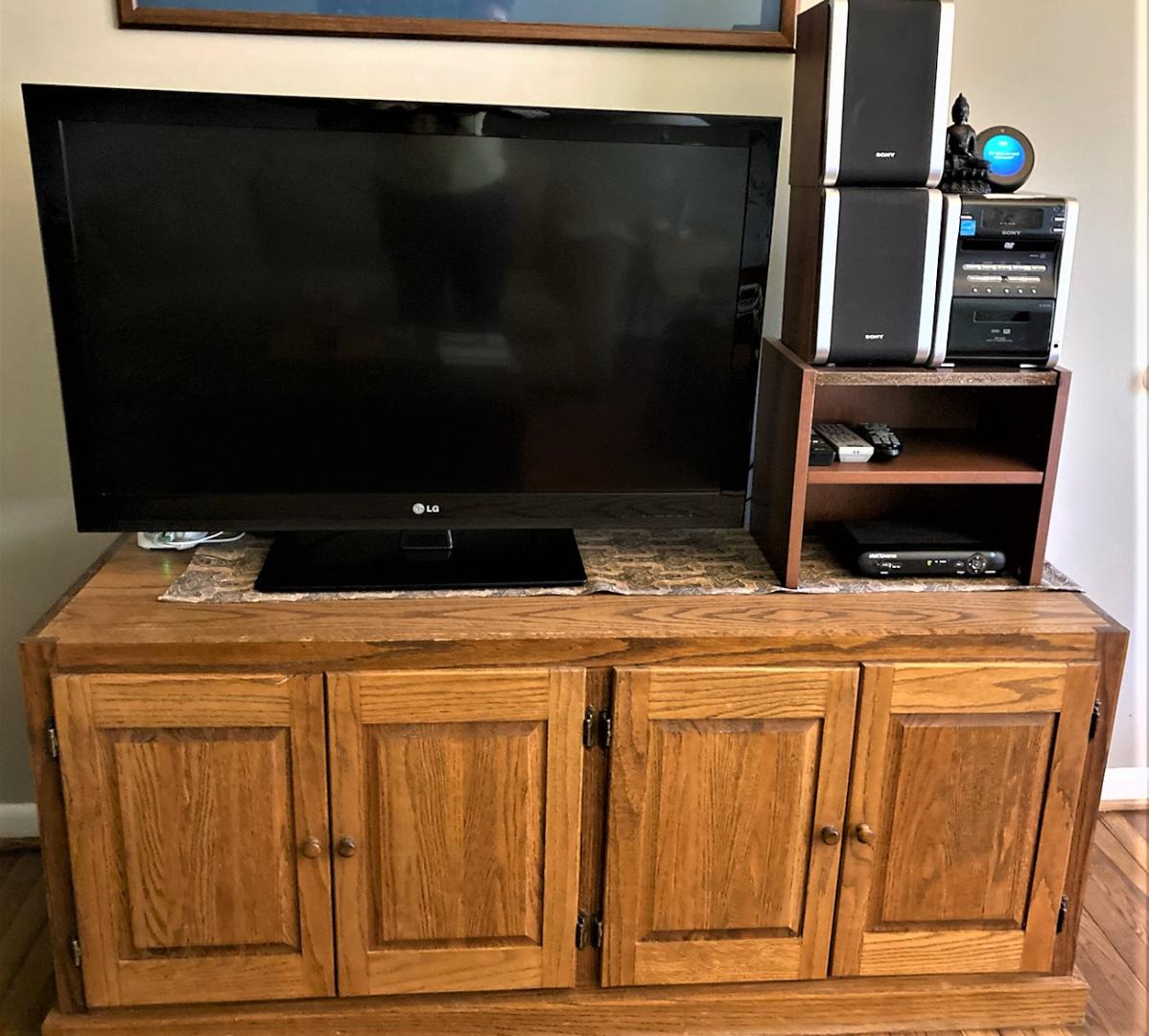 Each March I deep clean and reorganize my living room.  Spring will soon be here and I want my living room completely decluttered, fresh, and accessorized for the season. Many of the projects in the living room can easily be done in 10-minute blocks of time.
The Entertainment Center is a good example of that. I chunk my center into three different categories. One category is the section that holds our DVDs and CDs. Another category is the section that holds items used for entertaining guests. And the last category is all the items that sit on top of the center. Each category can be easily done in 10-minute blocks of time except for the section that holds items used for entertaining. That section has two shelves and by doing one shelf at a time I can stick with the 10-minute block of time plan.
I start with the section that holds the DVDs and CDs.  This section has some items that belong here but have been left out on the top. I have a plan for how this area is supposed to work but somehow the plan has gone astray.
It's important to understand why this happened.
Sometimes we want to play music when we have guests over. My husband pulls out a selection of CDs and puts them on the top of the center. We may play a couple but as the evening continues, we talk and forget to change out the music. The guests leave and the CDs may get stacked up but the less than 10-minute block of time it would take to put them away doesn't happen.
My husband likes old programs that used to be on TV so occasionally he will order them. The DVDs usually hide out in his office for a while but then are just put willy-nilly into the center.
About once a month we have an "our day" where we just spend the day together. My husband may pull out four or five movies so that I can select one to watch together. The other DVDs are either left out or just put back into the center anywhere on a shelf.
And last Christmas we received a gift that needs to be hung outside. Instead of dealing with it because it was cold, we just put it in the entertainment center and forgot about it.
Right now, everything is all jumbled up and some of the CDs and DVDs are on top of the center.
Time to start organizing CD and DVD section of the entertainment center using the 10-minute block challenge!
I pull out the Entertainment Center card from my deck of Organize Your Home 10 Minutes at a Time. I set my timer for the 10-minute block and follow the steps on the card. The card reads:
Take everything out of the one section and wipe it down.
Gather all loose CDs/DVDs and their disc packaging or sleeves and match them.
Sort by type = CDs, DVDs, games.
Put any electronics or media you no longer want in a donate bag or trash.
Put everything you are keeping in labeled containers – baskets, plastic tubs, or boxes
Neatly return the items to the shelves.
Steps one, two, and three were easy and quick. I did not have any games, but I had a couple of DVDs with family videos.
My CDs were mostly already sorted by genre, so I put the loose ones back where they belonged. I pulled out some that we had not listened to in years. Those went into a donate box along with a duplicate DVD.
Everything that was left had a container and was returned to the shelf.
Organizing that section was done in just 8 minutes. Once everything was put away, I discovered one of the two shelves is almost empty. I am considering putting some board games into this spot.
In Conclusion
It's easy for clutter to accumulate in this area. Analyze why it happened. Then make a plan to keep it in shape. I realize that after having company over or having an "our day" we may not feel like putting things away that evening so I can give myself permission to leave them out overnight. But the next day it will only take a couple of minutes to correctly put the items where they belong. If they stay out it becomes a habit, and the stack will grow so that it will take at least another 10-minute block of time to make it right and the clutter will be annoying.
I challenge you to look around and find one area in your home that you could declutter in a 10-minute block of time or less. Then just do it! Just for fun send us pictures of your project on our Facebook page Ask the Organizers Diane and Jonda. You will feel so much better when you see the organized space you have created.
Jonda S. Beattie, Professional Organizer owner of Time Space Organization, and co-owner of Release, Repurpose, Reorganize. She is based in the Metro-Atlanta area. As presenter, award-winning author, as well as a retired special education teacher she uses her listening skills, problem solving skills, knowledge of different learning techniques, ADHD specialty, and paper management skills to help clients tackle the toughest organizational issues. Jonda does hands-on organizing and virtual organizing.