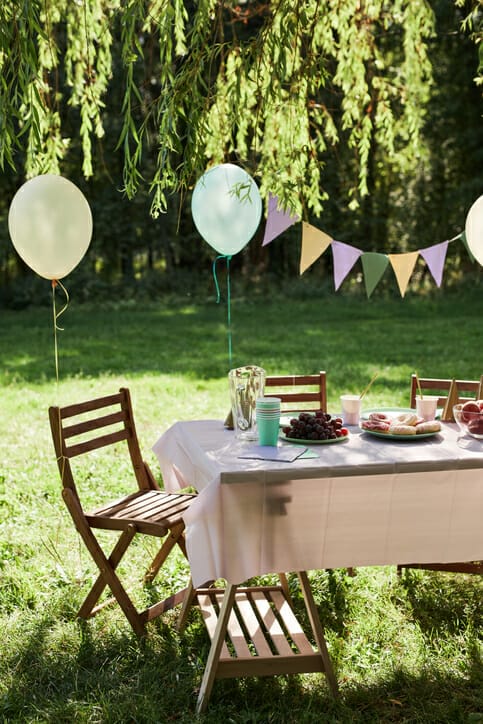 Summer is here! Days are getting longer. June is a wonderful month for celebrations and parties.
There are so many things to celebrate. June is the month for Father's Day, weddings, family reunions, and it's always someone's birthday.
So, let's throw a party!
I know, I know — organizing a party can cause anxiety and be stressful if you don't have a plan.
As an avid party thrower, let me help you with that plan so that you can enjoy the celebration along with your guests.
Your 7 Step Celebrations and Parties Planner
1. Have a theme or reason for the party
While it's fun just to get together the best parties have a reason to celebrate. Maybe this year is the year to let Dad know just how special he is. Family and guests can come prepared to share a story or picture that Dad will be able to keep and treasure – much better than another tie or pair of socks.
Have a treasure hunt party for families with kids. Everyone can get involved.
Set up the croquet set and have everyone wear white.
The possibilities are endless!
2. Pick a date
When deciding when to have the party chose a date at least a month away to give guests the best possible chance to arrange their calendars to come. Stay away from dates where people are likely to have commitments.
3. Make your guest list
The people are what make the party fun. Decide how many people you want at your party. Where you throw the party, what type of party you are having (i.e., snacks and drinks, buffet, or sit down formal), the occasion, and your budget will help with deciding how many people to invite.
Invite people who will want to come to celebrate the event and people you enjoy being with. Let single invitees know if they can bring a friend.
Celebrations and parties are so much more fun when you are surrounded by the people who are special to you.
4. Send invitations
I like to send out a save the date email as soon as I decide the date and my guest list. Then I follow up with a mailed invitation about two weeks before the party. A response is asked for on the mailed invitation so I can plan my menu and shopping list. People tend to hold onto mailed invitations because it helps them remember the date, time, and where the party is being held.
5. Plan your menu
Your menu will be shaped by the type of party (casual/sit down) and the theme. You can prepare all the food by yourself, have it catered, or a combination of the two. Another option is to prepare the main dish yourself and ask/allow others to bring dishes to supplement. However, you go about it, make sure that most of the food preparations can be done early in the day or the day before. You want to enjoy this party too.
6. Location
Your home is a logical location for a casual open-ended party. If you live in an apartment and your party is larger than you can accommodate, consider renting a space in the clubhouse. It's also fun for special events to plan your party away from home. I've had fun with giving parties at a bar (darts party), a putt-putt course (golfing party), a winery (dance party), and a train car (back in time party).
7. Develop a Timeline
Once you decide to have the celebration, put together a timeline. List every task that must be done from making the guest list down to laying the food on the table right before the guests arrive.  Each task should have a "do" date and a note as to who is responsible for the task completion. Once you have your timeline planned you can stop worrying. Just follow the plan and the celebration will be wonderful.
When the big celebration day happens there should be little to do but some last-minute decorating and laying out the food and drinks. When the guests arrive, you are ready to celebrate with them!
Using this method of planning for celebrations and parties removes the guess work and helps you avoid stress and anxiety. The goal is for you to enjoy the party alongside your guests.
If you are struggling with developing  an organizational plan or just want some help or accountability in following through with the plan, join Diane Quintana and me in our Clear Space for You virtual support group.
Jonda S. Beattie, Professional Organizer owner of Time Space Organization, and co-owner of Release, Repurpose, Reorganize. She is based in the Metro-Atlanta area. As presenter, author of four books as well as a retired special education teacher she uses her listening skills, problem solving skills, knowledge of different learning techniques, ADHD specialty, and paper management skills to help clients.