This time of year, there are many holiday celebrations. Thanksgiving is right around the corner. Chanukah is right behind that. Then comes Christmas Eve and Christmas Day. These holidays are loaded with family traditions. Family traditions form memories that last forever and are passed down generation to generation. The traditions give us a sense of belonging. They connect the generations and promote family values. Keeping traditions going takes time, planning, and prioritizing. It is important to choose which celebrations and traditions you want to devote your time and effort towards.
But what happens when we can't continue the same traditions? How do we cope when we must make adjustments?
Honoring Celebrations and Traditions
Many years ago, when my mother died our Christmas tradition of coming together as a family began to fall apart. My siblings and I were spread across the country. We tried at first to rotate and take turns hosting the celebration. But it got more and more difficult. We all had spouses who also had family traditions. We had children who were now older and had jobs and relationships. We tried. Some would do Christmas eve at one place and Christmas morning in another.  Eventually it just was too much and as much as we loved each other it was no longer possible. I grieved the passing of this tradition.
An Adjusted Celebration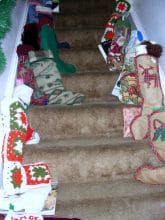 But we adapt. In my own home I put up a live tree (my mother always had a beautiful one) and I hang up stockings (only 3 instead of 20 or more but still…). I bake my family's favorite cookies and mail them. We attend a Christmas eve service if only virtually. My son who lives nearby will come over Christmas day and we will exchange gifts and have a nice meal. My other son, daughter-in-law, and grandchildren live in another state and are not traveling during the pandemic but there will be lots of Facetime and sharing.  My siblings and I call each other. Christmas for me is about love and family and that still holds true.
Thanksgiving Celebration and Tradition
Thanksgiving has always been a very important coming together for my husband's family. When we were still dating, he hosted it at his home and his children and grandchildren showed up. It was a riotous time. There was always a shooting of baskets somewhere in the afternoon after the meal and of course watching sports on TV. After we got married and moved into a smaller home and his grandsons got older and had jobs the tradition shifted. We got together but it was loosely rotated between our place and the sons' places.
This year it is not going to be possible for us all to gather. One of his sons is coming here for a visit the week before Thanksgiving. He will be by himself as his sons are working and can't get off. We have decided to go for the Thanksgiving Day meal to his other son in South Carolina. He is on call at work and can't travel. My own son is having his Thanksgiving meal with all his favorite foods with us here on December 5 – when he will also help me put up the Christmas tree. We adapt and still hold on to what is dear to us.
Grieving Over Past Celebrations and Traditions
I have a friend who is struggling because one of her children can't come to her traditional Thanksgiving brunch and meal. She says, "It's like he is putting a knife through my heart." I remember how much I grieved when our Christmas gatherings ended but I want to remind her that Thanksgiving is a time for loving our family and remembering all that we are grateful for. If I get to see my family, it really doesn't matter to me that it is on "the day".
Reflecting on Celebrations and Traditions
As the special days come upon us, I ask each of us to reflect on why this day is important. What can we do to honor the spirit of the day? How can we experience the true joy of the holidays?
If planning for the holidays seems overwhelming or you find yourself stuck and unable to move forward on any other organizing project, join Diane Quintana and me in our Clear Space for You virtual support group.
Jonda S. Beattie, Professional Organizer owner of Time Space Organization, and co-owner of Release, Repurpose, Reorganize. She is based in the Metro-Atlanta area. As presenter, author of four books as well as a retired special education teacher she uses her listening skills, problem solving skills, knowledge of different learning techniques, ADHD specialty, and paper management skills to help clients.