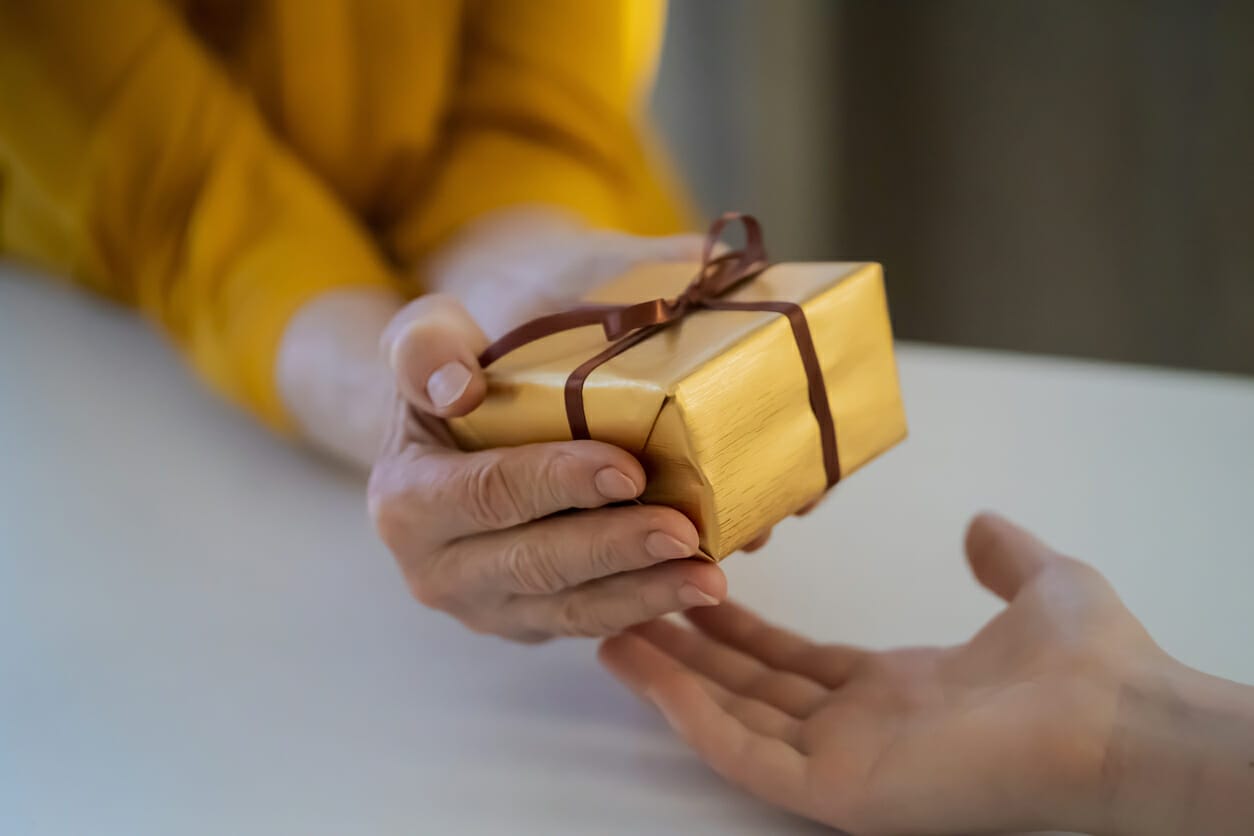 Gift giving is something we all do. Sometimes it's spontaneous but more often we know ahead of time that we plan on giving a gift. There are always the expected birthdays, anniversaries, holidays, as well as weddings and graduations. And, of course, the hostess gifts.
3 tips to help you stay organized and on top of your game when it comes to gift giving.
1. Keep a list of people you give gifts to on a yearly basis and a budget amount you would like to follow.
 I keep a running list of people in my journal that I give gifts to. I also have a budget for gift giving so as I buy gifts I also write in the amount of the purchase. This is especially important during the holidays when a lot of gifts are bought and it's easy to lose track of spending.
As I buy a gift, I write down what the gift was and what I spent. I like to take advantage of summer sales and art/craft events when shopping, so some gifts are bought way in advance of when they are given.
My family has a tradition for Christmas giving that I love. Each year we buy for a different sibling's family on a rotating basis. Looking back in my journal I can see who I bought for last year and so know who I am looking for this coming year.
2. Record ideas for gifts that you capture by listening to friends and family or by noticing their favorite foods or hobbies.
Your friend comments on how much she likes your holiday placemats or that she loves the drippy multicolored candles but just can't seem to find them.
Your brother loves the bagels you serve when he visits but can't find anything like them where he lives.
Your sister has taken up a new interest in motorbikes.
Your son and daughter-in-law are vegans and love cooking and trying new products.
As you hear comments or notice new interests, make notes of them in your journal and keep an eye out for fun surprise gifts.
3. Designate a specific space or two to store your gifts.
 By having a dedicated space to store your purchases, you already know where to put the gifts when you bring them home and where to look for them when the time is right.
I can't count the times I've been helping a client declutter a room only for them to find gifts that they have stashed somewhere and then lost track of.
By checking in occasionally where you keep your cache, you will remember what you already have purchased so that you don't go out on a splurge and buy even more things for that person.
Buying the right gift for someone can be a lot of fun. Staying organized and on top of your game can take the stress out of shopping and storing those gifts. You can even wrap your gifts ahead of time as long as you remember to put the tag on and have logged into your journal just exactly what the gift was.
If you want help or just some accountability in working  or developing an organizational plan or project,  join Diane Quintana and me in our Clear Space For You clutter support group.
Jonda S. Beattie, Professional Organizer owner of Time Space Organization, and co-owner of Release, Repurpose, Reorganize. She is based in the Metro-Atlanta area. As presenter, award-winning author, as well as a retired special education teacher she uses her listening skills, problem solving skills, knowledge of different learning techniques, ADHD specialty, and paper management skills to help clients tackle the toughest organizational issues. Jonda does hands on organizing and virtual organizing. For more of Jonda's tips connect with her on Facebook.